Accommodations
Cambra Sands
Service
: All Season Cottages on the water
Location
: Malagash
Phone
: 866-559-0705
Email
:
info@cambrasands.com
Website
:
www.cambrasands.com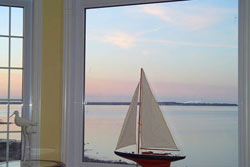 Cambra Sands features 7 newly developed (2004-2007) luxury, country cottages. Stroll the quiet grounds and relax among our unique 30 acre property, including our exclusive 10 acre peninsula which offers 2 miles of private sandy beach overlooking Wallace Bay.

We are the perfect vacation spot for those who want to explore the many sights and attractions the Sunrise Trail has to offer or for those who are looking for the ultimate relaxation destination.
Saltscapes Vacation Properties
Service
: cottages
Location
: Malagash
Phone
: 902-257-2666
Train Station Inn
Service
: Inn
Location
: Tatamagouche
Phone
: 888-724-5233
Jubilee Cottage
Service
: Bed and Breakfast
Location
: Wallace
Phone
: 902-257-2432